Last year I heard
Scum of the Earth
's 2012 release, The Devil Made Me Do It. I had no idea who they were, and though I liked it I was very much listening to
other
things
at the time. Late last fall I listened to it again and really liked what I heard so I dove in head first to learn more about them and would up getting everything else they've released as well. Even now I am still very much listening and enjoying it all, thus they are my latest listening pleasure!
Scum of the Earth, or SotE, is essentially guitarist and reluctant singer
Mike Riggs
. Riggs was the guitarist in
Rob Zombie
's first solo band after White Zombie and before Zombie took a break to make some movies. The resemblance is certainly there, musically and visually. SotE is kind of like a poor man's Rob Zombie. SotE may be a little darker where Rob Zombie is a little more cartoonish. That's the best, briefest description I can give. It's just the heavy guitar riffs, dark lyrics and industrial, sometimes electronic sound that seems to appeal to me here. Greatly.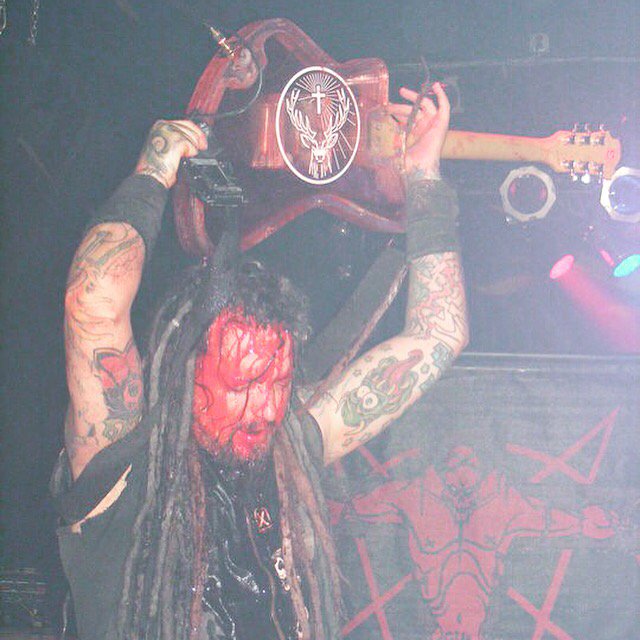 Riggs and SotE have released 3 full length CDs, in 2004, 2007 and 2012, with just a single released in late 2017 (aside from the streaming-only
Munsters theme song
, also released late 2017). Not as much as I want, but the heavy grooves and chug-chug-chug guitars make me want to
Death Stomp
, despite my age and the fact I would get killed in a mosh pit these days.
I don't know how active a band SotE ever was, and they don't seem very active now, touring or otherwise. And I know I've delved into the past on this one, but there's not a ton of stuff about them on Youtube to find. Well, I'm very aware of Riggs and SotE now, so if they come up with anything new I will find it. Rock on, Riggs.
Scum of the Earth - Dance Motherfucker
Previous LLP Posts...
LLP 1 - Pain
LLP 2 - Nightwish
LLP 3 - Die Antwoord
LLP 4 - Pain part 2
LLP 5 - Andrew Bird LIVE
LLP 6 - Nightwish part 2
LLP 7 - Paramore
LLP 8 - Newsted
LLP 9 - U.D.O. LIVE
LLP 10 - Nightwish Imaginaerum Movie
LLP 11 - Kiss
LLP 12 - Rick Springfield
LLP 13 - Hyrax
LLP 14 - In This Moment
LLP 15 - Faster Pussycat LIVE
LLP 16 - Sebastian Bach
LLP 17 - Cradle Of Thorns
LLP 18 - Amaranthe
LLP 19 - Lindemann
LLP 20 - Halestorm
LLP 21 - Garbage LIVE
LLP 22 - Arcade
LLP 23 - Nightwish LIVE
LLP 24 - Ace Frehley
LLP 25 - Darkc3ll
LLP 26 - Dementia
LLP 27 - Rammstein
LLP 28 - Marilyn Manson LIVE
LLP 29 - The Harp Twins LIVE
LLP 30 - Diamante
LLP 31 - Steel Panther LIVE
LLP 32 - Scum Of The Earth