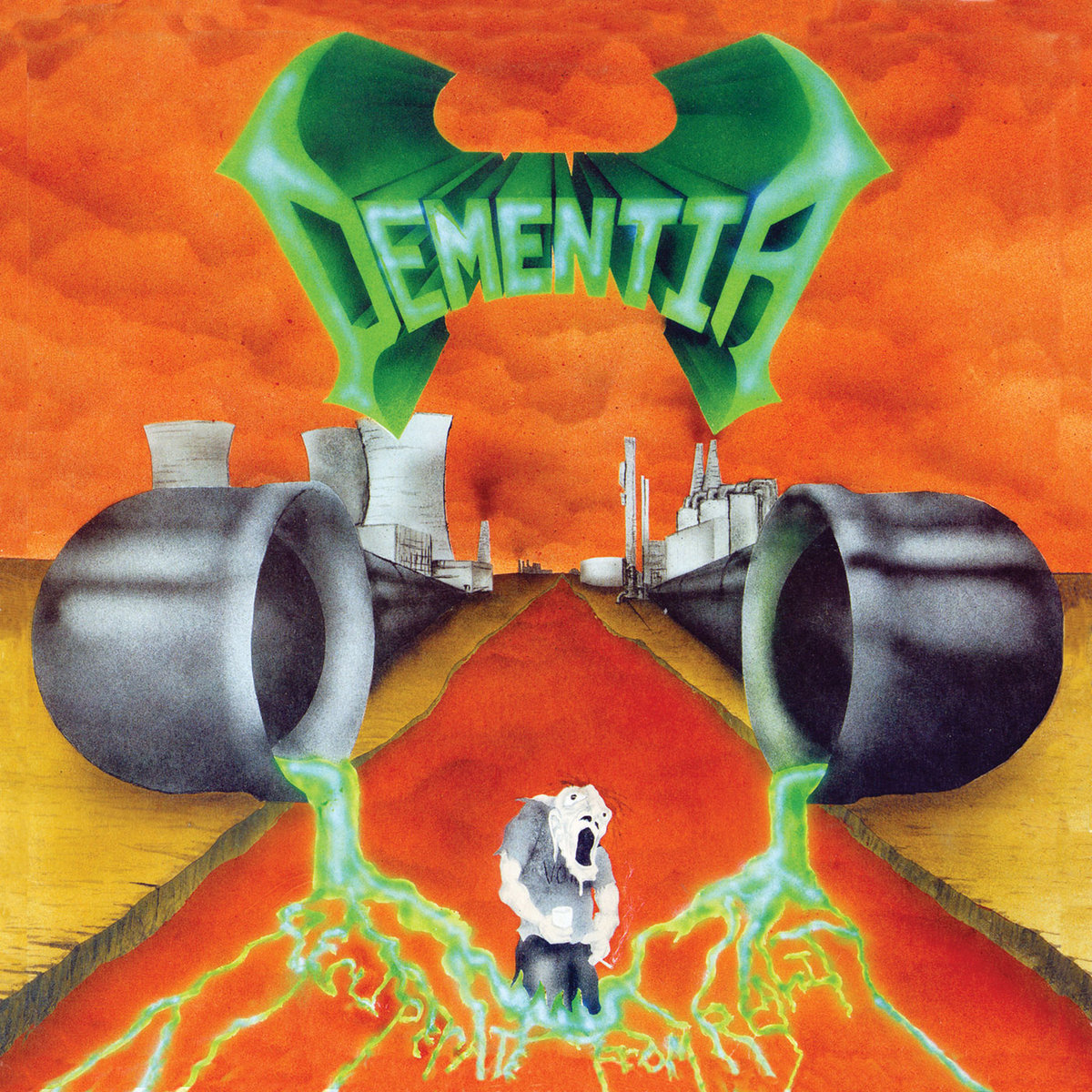 In high school I had friends (yes, not many but some!) who either played instruments, had longer hair, enjoyed the same kind of music that I did or any combination of the above. I'm still friends with some, and I've written about them here, while others have faded or pushed away. One of my good friends from then, Mike, even lived with me for a while after high school. Otherwise we still seemed to get together somewhat regularly, driving to and fro. He continued to school an hour or two away but got hooked up with a band, Syrys, if I remember correctly. School fell by the wayside for him as it did for me, but he was doing what he loved. Eventually the band left small town Wisconsin and moved to a house in Chicago to seriously pursue music. It was after that move the band, now named Dementia, put out an album called Recuperate From Reality. Getting that album out was a great accomplishment. That the album was recently re-released by an independent label is a wonderful recognition and validation of their efforts. Too bad some of those involved sought more so it is just the one cd instead of a box set. The 3-cd box set that it should have been would have been a better tribute - if they all could have agreed on things. It's all in the past, this should be nothing more than a celebration of that past. One would hope that would be the only motivation, but it seems not because only the one cd got re-released.
Mike, Skylar and Brian
Mike contacted me recently to let me know about the re-release and I ordered it immediately. The album, Recuperate From Reality, was released in 1991 on Tombstone records, the re-release is available under
these blue words
. A few days later he sent me a link to a YouTube video of Dementia playing at the Avalon in Chicago. (He also emailed me a picture of me and him at least 25 years ago. I was shirtless, tanned and skinny. No, I will not post it.) Unfortunately, I don't think the band lasted much longer after this show. I believe both Skylar and Brian went to the west coast, I think separately. Mike followed his own career path, too, and wound up in Michigan. They had several bass players over the years, and one interesting fact is they once had a bass player named Matt Snell who more recently played with Five Finger Death Punch. He appears on the last two tracks of the re-release, songs that weren't on the original CD.
I've heard this so much and knew all the guys (well, not all the bass players) so it's hard for me to be objective. These were the times in the early nineties. We were young and having loads of fun, probably lucky to have survived it at times. But being close to it and having it and hearing it for so long, I can't tell, is it dated? I don't think so, or maybe it's the production. No matter, it will always remain a favorite in my collection.
Previous LLP Posts...
LLP 1 - Pain
LLP 2 - Nightwish
LLP 3 - Die Antwoord
LLP 4 - Pain part 2
LLP 5 - Andrew Bird LIVE
LLP 6 - Nightwish part 2
LLP 7 - Paramore
LLP 8 - Newsted
LLP 9 - U.D.O. LIVE
LLP 10 - Nightwish Imaginaerum Movie
LLP 11 - Kiss
LLP 12 - Rick Springfield
LLP 13 - Hyrax
LLP 14 - In This Moment
LLP 15 - Faster Pussycat LIVE
LLP 16 - Sebastian Bach
LLP 17 - Cradle Of Thorns
LLP 18 - Amaranthe
LLP 19 - Lindemann
LLP 20 - Halestorm
LLP 21 - Garbage LIVE
LLP 22 - Arcade
LLP 23 - Nightwish LIVE
LLP 24 - Ace Frehley
LLP 25 - Darkc3ll
LLP 26 - Dementia
A YouTube video of the whole 1991 album audio is after the break.